Project //

Expressway Ford
The Challenge
Create a strong branded environment that capitalized on the Ford equity while keeping the feel of being small town and family driven.
A family run Ford dealership in New Hamburg Ontario built a new dealership and wanted create an environment that would ensure the comfort of their customers and their staff. They visited another Ford dealer, liked the work we had done there and contacted us to consult on their new building.
The Result
We departmentalized the showroom into a Lincoln specialty section and did lifestyle treatments to help customers relate to the vehicles that most suited their needs. Customized interior signage captured the history of the brand and the history of the family in the community.
Client Feedback
"I am writing to recommend services of the team of Juan Montoya, of JMport Design House and Brian Spiteri, of Big Picture Imaging. Juan and Brian provided assistance with our graphics image program during the recent upgrading of our New Hamburg facility and celebration of 30 years in business. I had the pleasure of working directly with Juan and Brian personally throughout the four month process. Their knowledge and attention to detail helped us meet our tight timelines during our major renovation.
I feel confident in recommending team services of JMport Design House and Big Picture Imaging. Their ability to present concepts, and to move from ideas and visualization to actual product delivery, was impressive. We communicated frequently during the creative imaging process through email, telephone and face to face meetings. They were able to understand and appreciate our history and business strengths in order to develop a style that conveyed very positive branding and images for our company. Juan and Brian were very flexible and worked well with us in a very tight timeline. From design concept, to review of proofs, edits, final proofs, manufacture and installation, the team was very patient and responsive. We were able to move through this process smoothly in order to have our facility prepared for our 30th Anniversary Grand Re-Opening in May 2013. Juan and Brian's ability to respond to our requests and envision the message we wanted to express, along with their pledge to deliver creative concepts and final products in a timely process, made working with JMport Design House and BIG Picture Imaging a pleasure.
With their abilities, adaptability, and dedication, I have no hesitation in recommending the services of JMport Design House and BIG Picture Imaging. If you have any questions, please feel free to contact me at the above address and or telephone number listed below.
Sincerely,
Dwight Brenneman"
Dwight Brenneman – Dealer Principal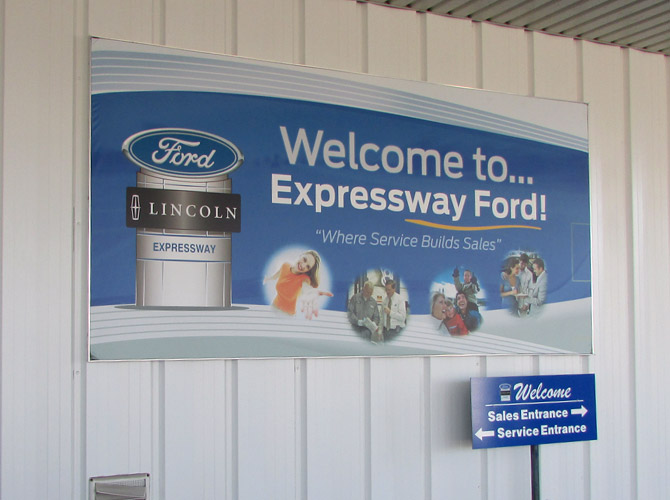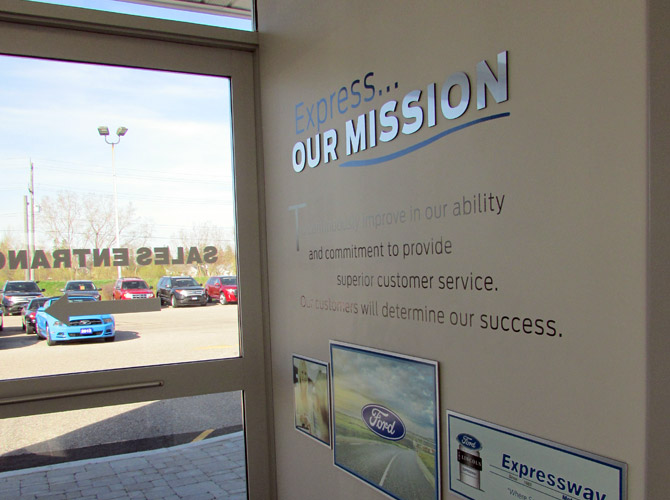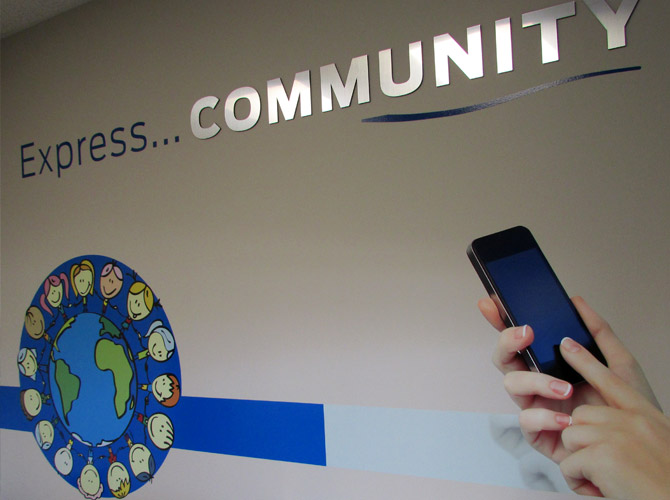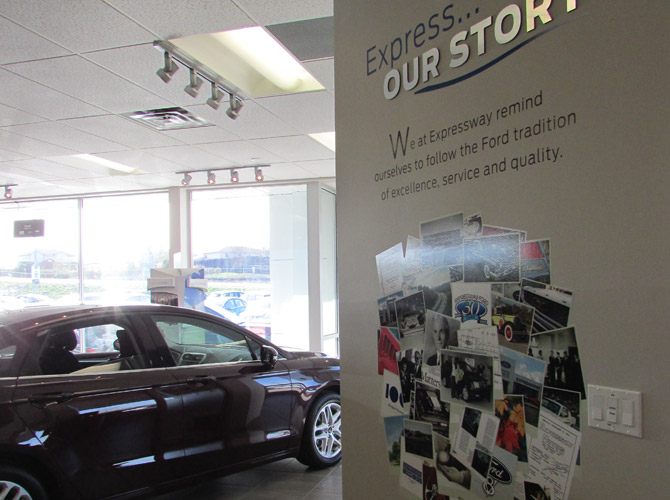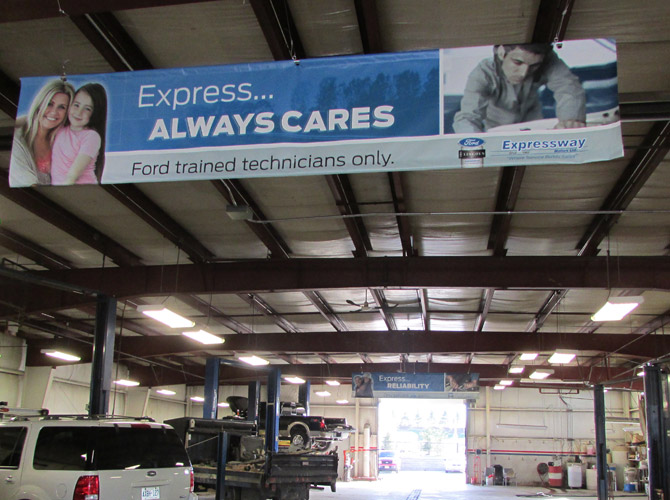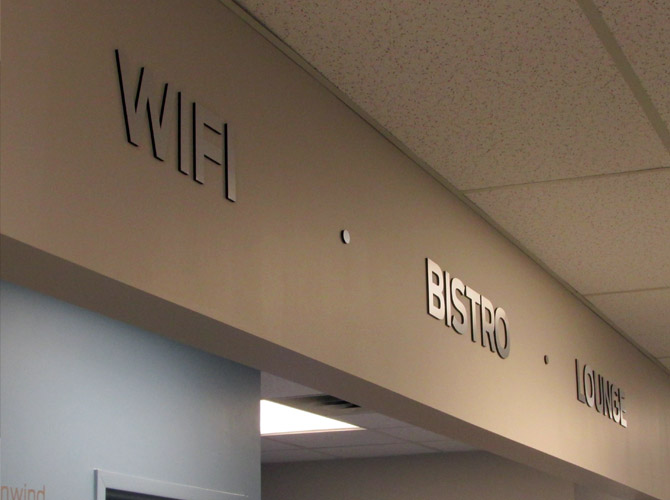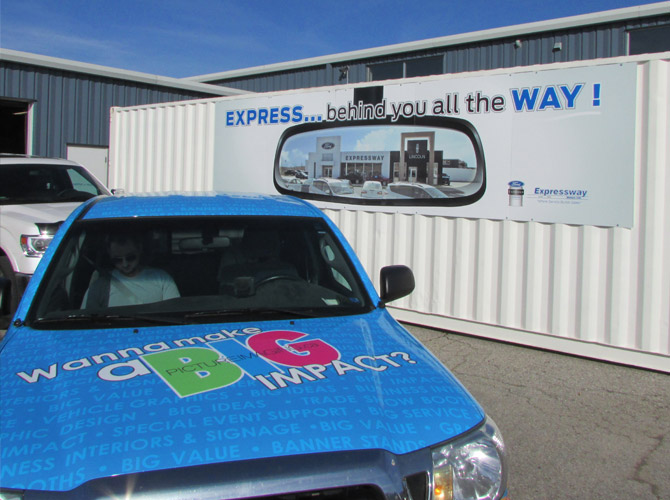 Project Timelines
A grand opening celebration was planned that would include executives from Ford's Corporate Head Office. We worked the timeline backwards from there. Install had to happen on these dates, which meant production needed to happen in this window, which meant designs had to have final approval by this specific date. We have done this enough times to know the drill and we have never missed a deadline.
Parts of the Puzzle
About 30 different elements needed to be designed, produced and installed. Approvals needed to be secure by a father and two brothers. The execution was simple due to the fact that the family allowed us the flexibility to do our thing in a very supportive way. The staff in each area were equally flexible in allowing us to intrude in their space when we needed to during the installation and the key decision makers were always readily available throughout the process.
Learnings
Ford has a network of enthusiastic and committed dealers. They love selling Fords.