Project //

Coca Cola
The Challenge
We receive a call from Spider Marketing on the December 15th prior to the Whistler Winter Olympics, asking us if we can design, build and deliver a giant coffee cup mounted to a trailer that is fully self-sufficient and have it in Vancouver for February 8th, just before the event being held there. The challenge was to do all this under a severe time constraint. Once we made the commitment – we say what we do, and then we do what we say. On time. Every time. Without excuses.
The Result
The Cup was in position on time and exceeded expectations of the sampling program it was designed to support.
Client Feedback
"When the Coca Cola representative in charge of the brand came to see it just before it shipped, he said three words. "Awesome! Awesome! Awesome!"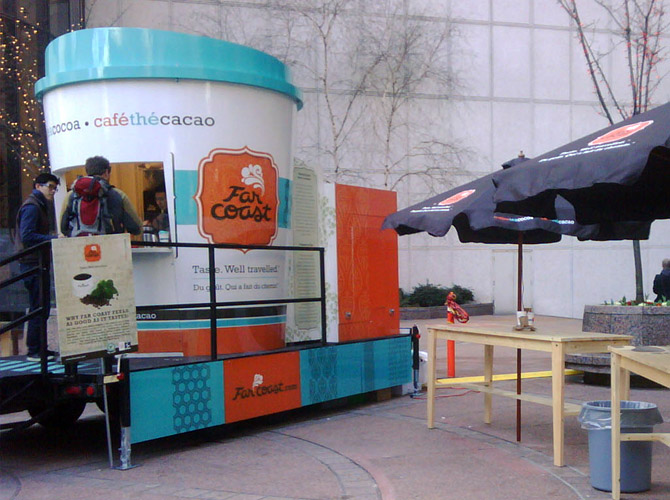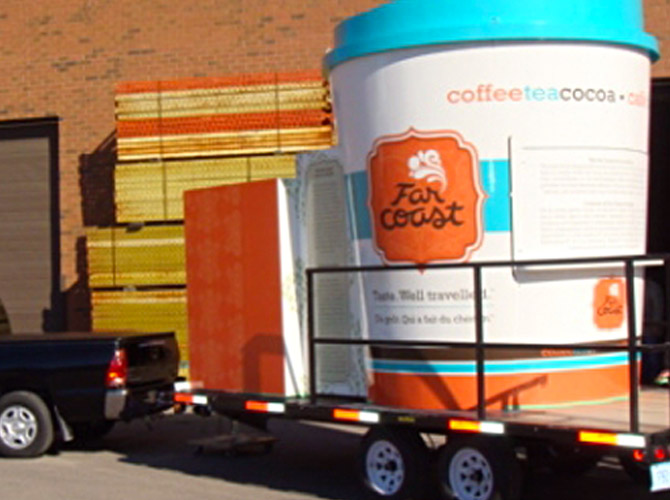 Project Timelines
This was a part of an Olympics sampling program that was designed to deliver 25,000 samplings of a new product. The "Cup" drew a huge crowd and to our understanding 50,000 samples were delivered. We were proud to be a part of this execution and maybe prouder of surviving the stress of such a tight timeline.
Parts of the Puzzle
This was a biggie. Many, many details included knowing how high all the underpasses were across Canada. What the municipal requirements were for railings to secure a permit that would allow guests access to the sampling window, finding a 500 litre reservoir, a generator that could manage power requirements for three energy devouring coffee systems, developing a panel that would allow a hardwire installation, finding a local electrician to wire it up to code on site and one other thing that was a challenge was designed a stripe that would stay horizontal when we wrapped a curved surface with a conical diameter. That one required the support of a retired Boeing engineer. These are only a few of the parts of this puzzle.
Learnings
We learned from this project that we can do ANYthing.