Project //

Budd's GM
The Challenge
Develop a themed concept that illustrated the values of both the corporate brand and the family behind this dealership group that is iconic to the Oakville-Burlington marketplace.
It was determined that the GM legacy of the past and the innovative nature of its current iteration was important to express to all customers. Chris wanted to offer a gallery of historical elements while also illustrating the very modern concepts coming out of the factories now.
Chris Budd was in the process of building a new state of the art car and truck dealership in Oakville. Like all car dealerships it really had to be more than a building. It needed to carry the personality of a family owned business and provide an environment for both customers and staff to feel comfortable to do business in.
Client Feedback
"The Dealership Design Group, in association with Big Picture Imaging designed and built our "Customer Visible" graphics in our new GM store. Together we created the atmosphere of a modern and customer friendly environment. The design, graphic materials, quality and service is the best caliber and quality we could ask for. The final product has created showrooms and service area's that compel the consumer on design, comfort, and the Budd's difference. We highly recommend Brian and Juan.
Sincerely, Chris"
Chris Budd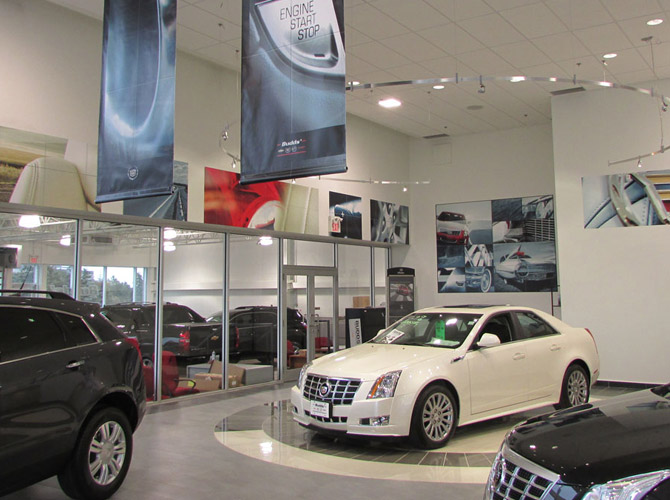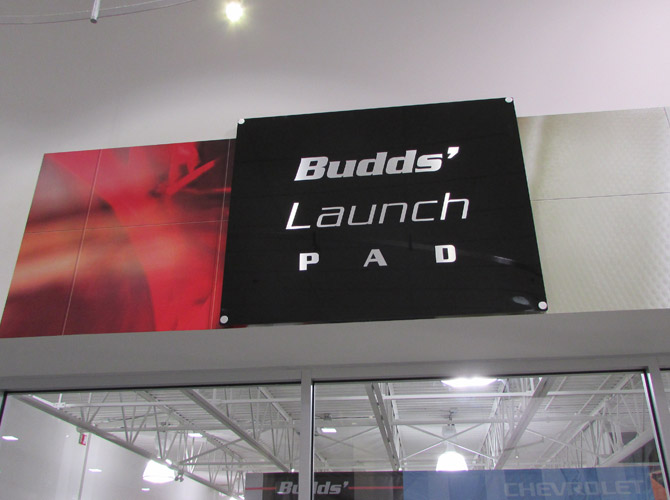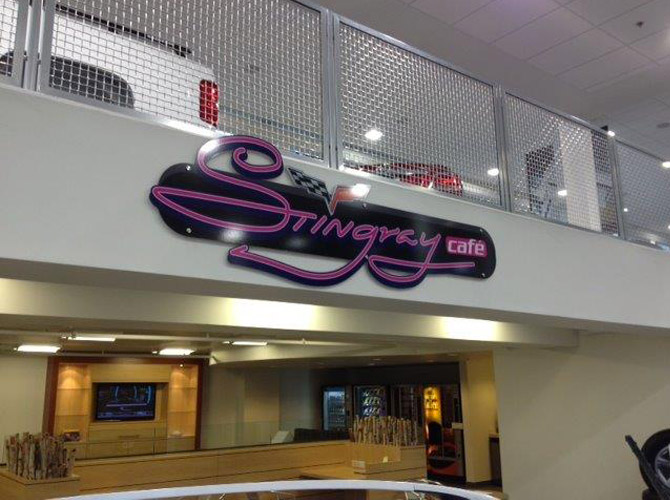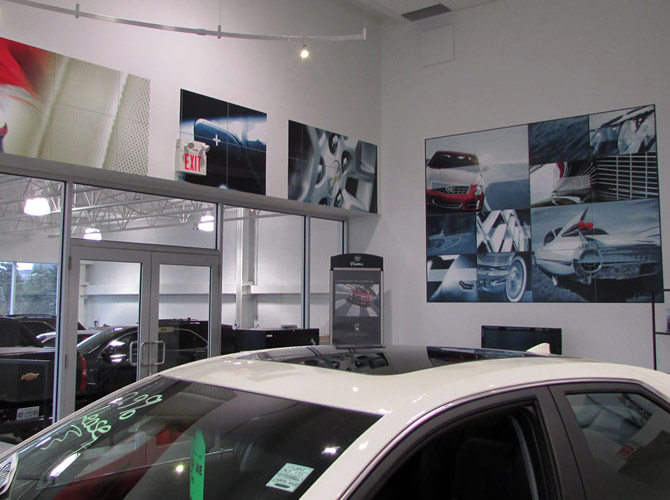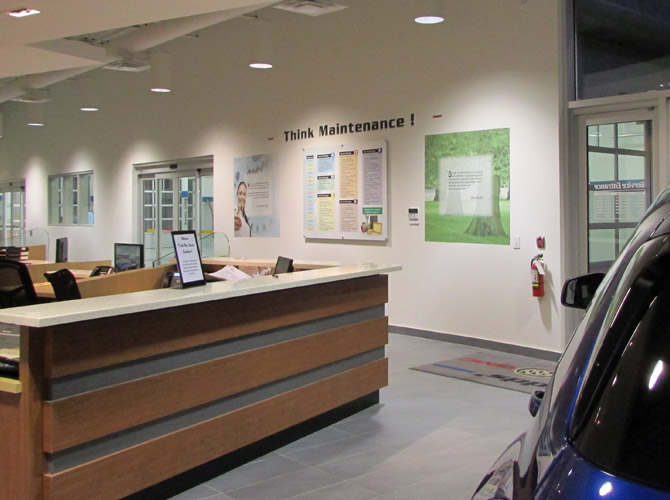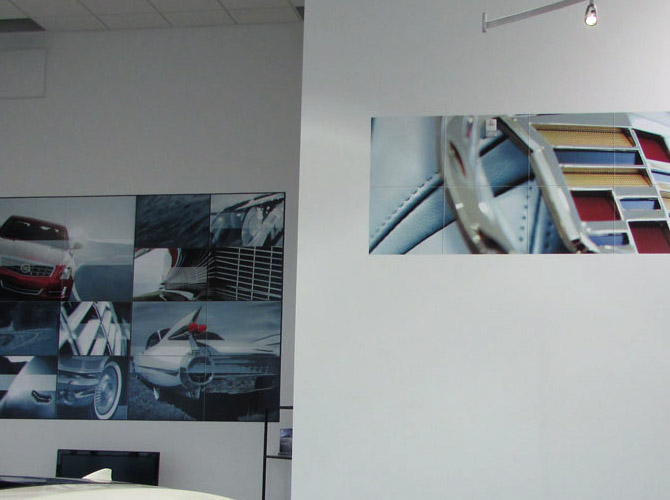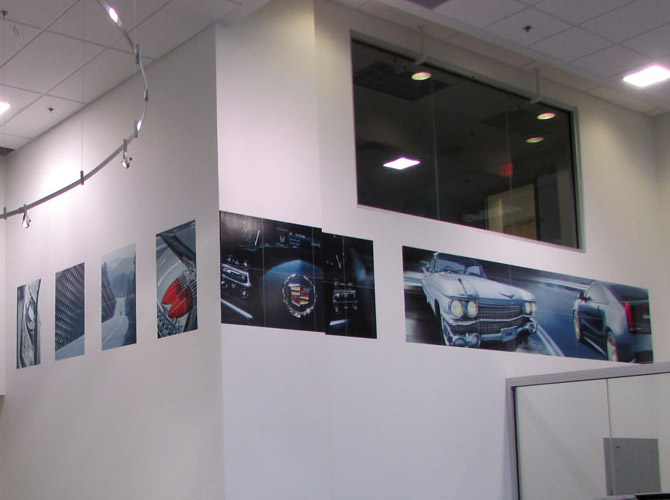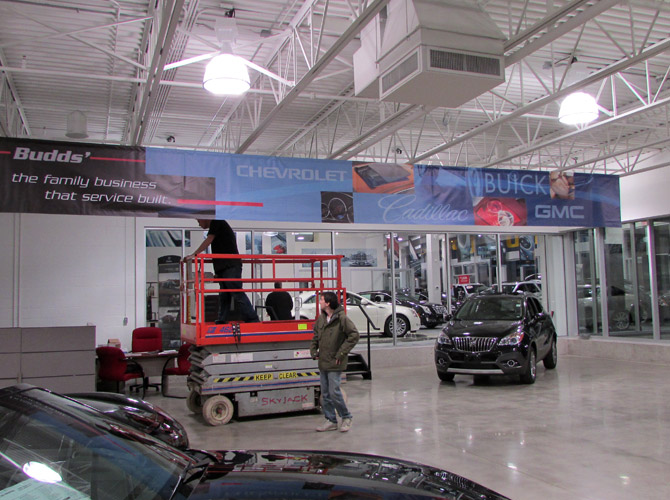 Project Timelines
This one went smoothly from concept establishment to final installation inside a 6 week window. The dealer was very decisive about what we wanted and we were able to fulfill his expectations with a premium quality in every respect. See our testimonial from Chris Budd
Parts of the Puzzle
The showroom was only the beginning as we tackled new car delivery area, service drive through, Cadillac Concierge, service technician areas and parts. We also designed, produced and installed a custom Stingray Café sign that brought a retro look to a very modern environment.
Learnings
When you are dealing with multiple departments of a busy organization, make sure you keep all the specialists in the loop and ensure that their input and feedback is clearly considered. We dealt with a lot of people and everyone contributed ideas that took the process to a better place.